Hi all! Hope you are having a wonderful May. We have two fun projects to share with you.
This is the Tegna Sweater. We have some beautiful yarns. We especially like Knit One Crochet Too's Cozette and wouldn't it be lovely in Hedgehog Fiber's Bollywood?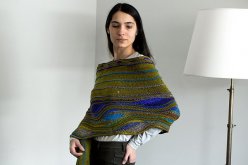 And this just in! New shawl from by Brigitte Elliot. We loved knitting up Autumn Fusion, let us introduce the Hillbrook Shawl. Knit this up in Manos Rios.
Finally, come a join us for the Wine Walk, May 17th from 5-8 pm.